---
Protecting your patients. Proper use of ambulance cot straps is important.
Posted on 1st Mar 2020
At least three strap type restraining devices (chest, hip, and knee) shall be provided per stretcher, cot, and litter to prevent longitudinal or transverse dislodgment of the patient during transit. Additionally, the head of the cot shall be furnished with upper torso (over shoulder) restraints that mitigate forward motion of the patient during severe braking or in a frontal impact accident. Restraining straps shall incorporate metal-to-metal quick release buckles, be not less than 51 mm (2 in.) wide, and fabricated from nylon or other materials easily cleaned and disinfected. Numerous lawsuits have been filed against EMS organizations for injuries sustained to patients when the cot has been dropped or tipped over and patients have been improperly secured to the cot and have become injured. Further, when ambulances are involved in vehicular crashes patients are often Page 1 of 3injured as a result of not being properly secured to the cot using the available five straps as required by the cot manufacturers.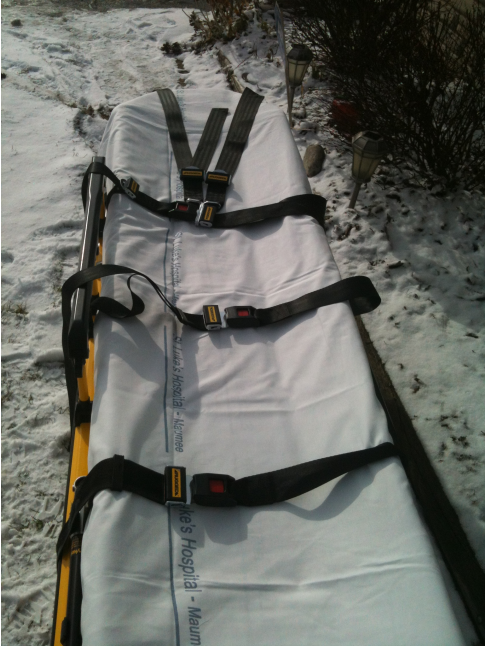 Ambulance cot manufacturers are clear in their instructions that all safety/security straps should be used when a patient is on the cot. These straps include one across the chest, one across the waist, one across the lower legs, and two over the shoulders of the patient to prevent movement of the patient off of the cot. The over the shoulder straps secure the patient to the cot in the event the ambulance is involved in a frontal collision, or sudden hard braking. These straps prevent the patient from being ejected forward into the captain's chair of the patient compartment. Additionally, these shoulder straps aid in keeping the patient midline on the cot in the event the cot is tipped over while being rolled on the ground.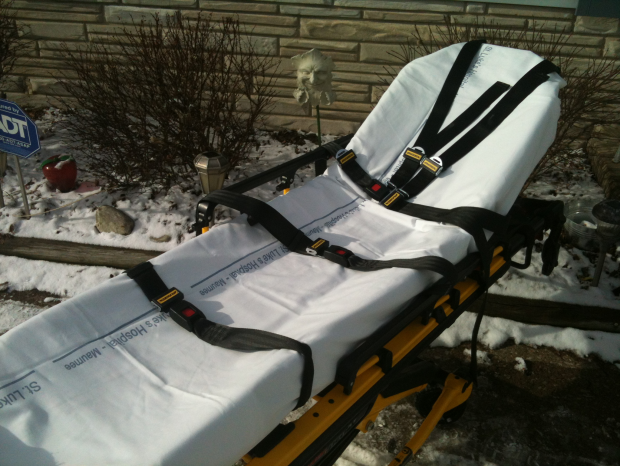 It is important that EMS providers consistently use all of the available ambulance cot straps to secure their patients properly. If a patient is injured due to a vehicular accident while in an ambulance, or the cot is dropped or tipped over while a patient is on the cot, investigators reviewing the facts of the case will look to determine if all of the safety straps were in use during the incident.
Failure on a part of the EMS personnel to use all of the safety devices potentially exposes them to civil liability. EMS organizations must ensure their personnel are consistently using all of the ambulance cot safety straps while a patient is secured to the cot. EMS organizations that Page 2 of 3do not have policies and procedures in place mandating the use of all ambulance cot straps expose themselves and their personnel to civil liability.
Ensure all personnel are well trained in the use of the ambulance cot. Do not assume the basic EMT education completely prepared the new EMS provider on how ambulance cots are to be used. EMS organizations should annually inspect all ambulance cots to ensure they are in good working order, undamaged, and present no risk to the user or the patient secured to them. Maintaining your ambulance cots in good operational condition through routine maintenance and proper record keeping is necessary to reduce patient injuries. Ensuring your EMS personnel are well trained in the use of the cot which includes using all five safety straps while a patient is on the cot significantly reduces the potential for patient injury. And by default, reduces an organization's exposure to liability in the event of an accident or cot tipping. EMS organizations and EMS providers should be fair warned that failing to properly secure your patient to the ambulance cot by not using all available cot straps, as directed by the cot manufacturer exposes them to liability in the event a patient is injured while in their care